Manchester City's performance away at Shakhtar Donetsk last night oozed quality, class and if I am honest, it was darn right sublime. Not perfect I hasten to add, but in my mind, especially during the first half, the lads display bordered on being stratospheric.
Blimey, the headline sounds something straight out of a Daily Express column (note – I must have a word with myself).
Review
Manc born VMC writer Johnny Baguette, who has been working and living in France for years added his thoughts.
On the 7th anniversary of the 1-6 Mancunian power shifter at the Theatre of Screams, Manchester City tonight delivered one of their finest ever Champions League performances 2000 miles from home on the Ukraine-Russia border.
To a man, City was quintessentially brilliant. Shakhtar, the Ukrainian champions, imperious since the last defeat almost three months ago were smashed out of the Kharkiv Park by the rampant Blues.
City was in total control from the first whistle and never relinquished it. Pep Guardiola's vibrant team selection and game management were spot on, a swashbuckling first half registering 70% possession giving way to a controlled, calculated "pick 'em off" approach in the second period. Factually, but for our usual profligacy, City should have won this game by 6 or 7 goals. However. Most pleasing of all, England's centurions delivered a 7th clean sheet in 9 games across all competitions.
JB's Man of The Match, a sublime Aymeric Laporte.
Rate the City players
Out of a possible ten, here are my Manchester City player ratings.
Ederson – 6.5
My heart was in my mouth when he ended up around a quarter way up the pitch as if he was an outfield player and in doing so, took on two of Shakhtar's finest, beat them and then hoofed the ball into orbit and out of harm's way. This man is as cool as a cucumber.
Made a couple of impressive saves without having to crank up from first gear.
John Stones – 7.5
Reliable, dependable and a joy to know the lad is on-form and playing out of his skin. Hardly troubled throughout and put the boot (legally) in when the situation required.
Nicolas Otamendi – 8
He wasn't going to allow anyone to rain on his parade – rugged but easy on the eye. Tough as old boots is our Nicho.
Aymeric Laporte – 8.5
How on earth he got his head in position to guide the ball into the back of the net makes me wonder if his neck is made out of elastic. Beautifully placed goal – what a cracker.
Boy, am I glad he wears a Manchester City shirt.
Benjamin Mendy – 7
Run tirelessly and so I can't complain about his passion. What I can moan about is his final ball. Needs improving.
Fernandinho – 7
Bossed the midfield, as usual – looked comfortable and chilled when on the ball. Nothing or no person fluffed his feathers.
Kevin De Bruyne – 7
Playing the best part of 70 minutes would have done him wonders. A couple of slick passes and thread-throughs justified him being part of the starting XI. A couple more games and he'll be back to his best.
David Silva – 9
There are not too many players who can control the ball as he can. His goal was class, as was his slick runs, moves, and ability to confuse anyone who faces him. His ability to play the way he does still has the ability to make me drool.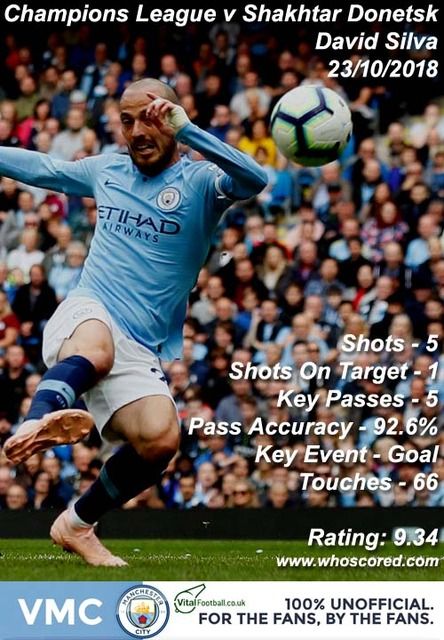 Riyad Mahrez – 7.5
Three clear-cut opportunities to put the ball in the back of the net were scuppered, even squandered. Some lovely touches throughout but he could do with knowing when to pass and when to shoot.
Gabriel Jesus – 7
Work in progress? We know he has the ability, but he needs to find it, pronto. He didn't have a bad game, but I expect more from someone who has the potential to become one of the best strikers in Europe.
Perhaps a couple of goals on Monday, away at Tottenham may rekindle his confidence.
Raheem Sterling – 7.5
Blistering runs looked good but no end product. Having said that I was impressed with his attitude – 10/10 for effort.
Substitutes
Bernardo Silva – 7 (replaced KDB – 69 mins)
Comes on and scores with his first touch. How he squeezed the ball past their keeper is beyond me? Love this guy.
Kyle Walker – 5 (replaced Stones – 80 mins)
Back from injury and so that is a positive. Did okay during his fleeting appearance.
Phil Foden (replaced Gabriel Jesus – 87 mins)
Not enough time to mark.