If you find yourself in the Los Cristianos region, Tenerife and you're a Manchester City supporter I can personally recommend visiting the Blue Terrace Bar.
Blues residing in the all year round sunshine resort use the Blue Terrace Bar as the Canary Islands branch of the MCFC supporters club. The bar is run (if memory serves me right) by a top bloke called Sid, originally from Moston. He's a massive City fan.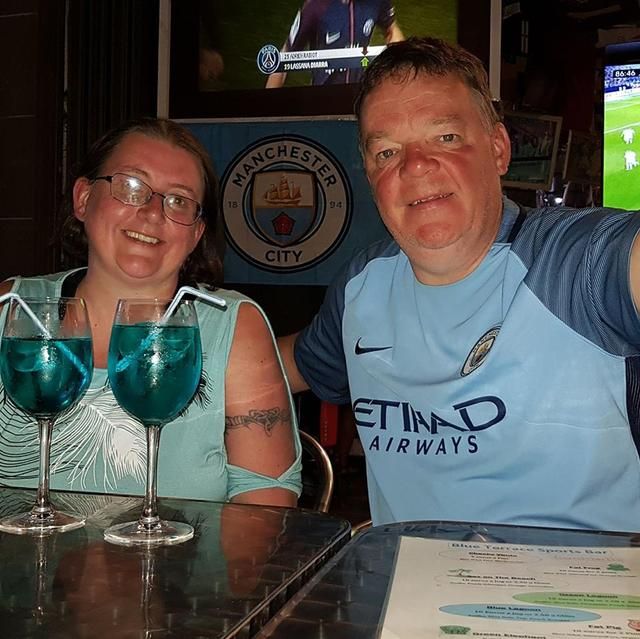 The bar is situated above Manhattans, on top of a shopping complex, opposite a pub called Bar 39. If you're in Los Cristianos, the Blue Terrace is on the way up to the Castle Harbour complex.
The interior is small, but the number of TV screens and atmosphere certainly makes up for the lack of space. Also, there is a vast terrace surrounding the main entrance for use, should you wish to have a quick cigarette.
Back in February, League Cup Final against Arsenal to be exact, I was lucky enough to be on the island and visited the said venue. I was greeted by dozens of Blues, all wearing their City colours, including barman Sid. The atmosphere was electric. Mind you; it did help when City won 3-0.
As one would image, the beer was flowing, and when the match referee blew the final whistle, I remember being showered in Champagne. As one can imagine, I was made more than welcome!
Thanks for the hospitality Sid, Rossi and the rest of the gang.
If you run or use an overseas MCFC Supporters Club, we at VMC would love to hear about the venue. You never know, we might write an article and recommend Blues to come and pay you a visit.
Our email address is manchestercity@vitalfootball.co.uk
Come on CITY!